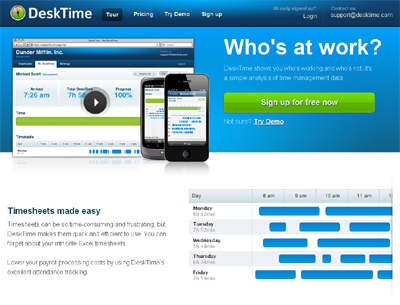 What it does:
DeskTime shows you who's working and who's not. It's a simple analysis of time management data.
DeskTime is a real-time time tracking service that analyzes productivity by seeing whether your employees are using "productive" or "distracting" applications.
With DeskTime you can easily track your time and your employee's time. DeskTime is a great choice for designers, software engineers, freelancers and small and medium size businesses.
How it beats the competition:
The obvious difference and competitive advantage of DeskTime over other competitors is that DeskTime is all automatic. While other software needs some kind of data entry DeskTime produces beautiful reports automatically and the information can be accessible and viewed in real-time while others solution have lag-time.
Site:
http://desktime.com
Twitter:
http://twitter.com/desktimecom
Facebook:
https://www.facebook.com/desktime

Automatic Time Tracking - DeskTime.com,