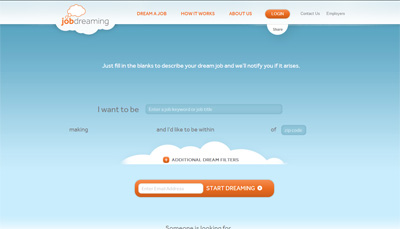 What it does:
jobdreaming is an innovative web-based application that matches active and passive job seekers with employers and recruiters. Quick and easy to use, jobdreaming asks candidates to describe the job they're looking for in one simple fill-in-the-blank sentence, which takes less than 30 seconds to complete.
How it beats the competition:
We're the only web-based service that matches active and passive candidates with recruiters and employers in a simple, easy to use manner.
We've reinvented the way that recruiters/employers connect with job candidates. Instead of requiring resumes, cover letters or lengthy applications, candidates can describe their dream job in literally less than 30 seconds. Then, when a match is found, they'll be notified by e-mail, where they can answer a few follow-up questions to qualify their experience as well as to ensure they're still interested in the position.
Site:
http://www.jobdreaming.com
Twitter:
http://www.twitter.com/jobdreaming
Facebook:
http://www.facebook.com/jobdreaming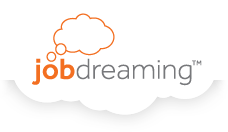 What's Your Dream Job? - Jobdreaming.Com,