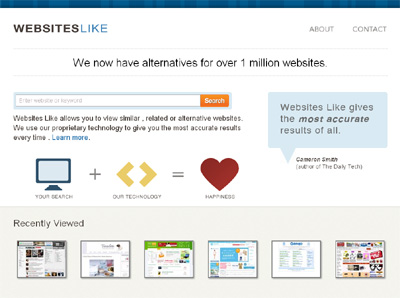 What it does:
Websites Like helps you find similar, related or alternative websites. It comes in handy whenever you're looking for alternatives for a website. We do this better than any other website on the world wide web.
How it beats the competition:
Websites Like has by far the largest index of alternative websites publicly available. It has the freshest data of its kind with an index that updates several times a day.
Site:
http://www.websiteslike.org
Expedited Review Badge URL:
http://www.websiteslike.org
Twitter:
http://twitter.com/websiteslike
Facebook:
http://www.facebook.com/pages/Websites-Like/254634514631309

Alternatives to Your Favorite Websites - WebsitesLike,