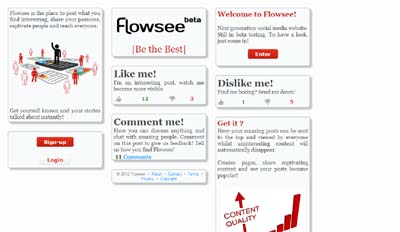 What it does:
Post what you find interesting, share your passions with others, captivate people and reach everyone.
Get yourself known and your stories talked about instantly!
How it beats the competition:
Flowsee proposes an alternative to the numerous profile-focused networking websites. Free of the constraints related to the profiles (for users, only reading about their contacts' lives has turned out not to be that much fun after all), Flowsee makes it easy to access the most interesting and popular content.
Site:
http://flowsee.com
Twitter:
https://twitter.com/FlowseeBeta
Facebook:
https://www.facebook.com/Flowsee?ref=hl

Be the Best - Flowsee.com,