\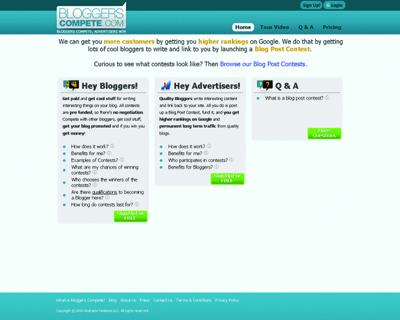 What it does:
Bloggers Compete helps advertisers get higher rankings on Google for their websites and a greater reach on facebook and twitter by engaging lots of bloggers through blog post contests. A blog post contest is where an advertiser writes up specifications about content the advertiser wants bloggers to post on their blogs. Here's a contest example: http://bloggerscompete.com/contest.php?contestid=112. Advertisers fund the contest with money and provide other incentives to motivate bloggers to join the contests.
Bloggers join the contests on the site and publish blog posts on their blogs tailored to the contests' details. After that, they submit the URLs of the blog posts to the contest pages.
The advertisers pick the best blog posts to be winners and those bloggers get paid by Bloggers Compete. Every blog post gets promoted on www.BloggersCompete.com/blog and if there are other incentives for participating in the contest, the advertiser provides those to the bloggers as well.
How it beats the competition:
With other sites it's more of a one on one experience. Advertisers speak to bloggers individually and trade details of what kind of content they want the bloggers to write about and then payment is handled in that fashion as well. This is a very time consuming process and can get expensive, because monetary negotiations have to happen with each blogger.
With BloggersCompete, the advertisers just write details for a contest, fund it once and then Bloggers enter the contest competing against each other to write the best blog post. The best blog posts win and the winning bloggers get paid. The advertiser's website gets mentioned in the content that the bloggers blog about and gets lots of back links. These in context back links will ultimately boost the website's search engine rankings for specific keyword phrases.
BloggersCompete.com makes getting LOTS of Bloggers to blog about something and link to a URL an effortless, fast and affordable process by letting Advertisers launch and market a Blog Post Contest.
Site:
http://bloggerscompete.com/
Twitter:
http://www.twitter.com/bloggerscompete
Facebook:
http://www.facebook.com/bloggerscompete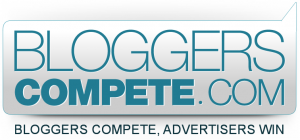 BloggersCompete.com - Bloggers Compete, Advertisers Win

,