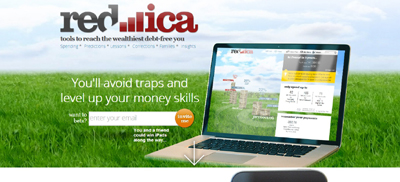 What it does:
RedMica is the next generation personal financial guidance application. It has an stunning and intuitive user interface for desktop and mobile users which provides an always-with-you adviser that has powerful analytics to track household income & expenses, and give users a personalized, holistic view of their finances. It provides real-time, forward looking, personalized financial guidance based on the user's profile, income, spending patterns and preferences, tailored to the user's level of sophistication and encouraging what-if analysis to avoid bad decisions.
How it beats the competition:
Most personal finance tools are not geared towards helping the user based on their situation and offer no guidance.  They are at best calculators and registers that can be used by professional but not by majority of the consumers.  RedMica offers personalized guidance to the users based on their situation and helps the users achieve their financial goals.
Site:
http://www.redmica.com
Twitter:
http://twitter.com/RedMicaInc
Facebook:
http://www.facebook.com/pages/RedMica/381757961904139

Brilliant Money Management Tools for the Rest of Us - RedMica

,