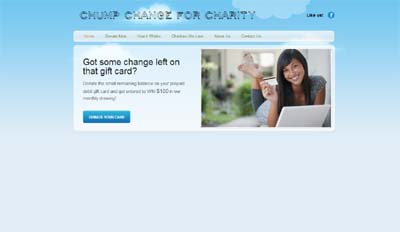 What it does:
Got a few dollars and change left on that prepaid gift card. Instead of having it just sit in your drawer or wallet, visit www.ChumpChangeForCharity.com and donate the remaining balance to charity! As a reward, you will be entered into a monthly drawing to win more cash!  There is about $41 Billion in unclaimed gift card money in the U.S…. help us collect it and make a difference in the lives of the less fortunate!
How it beats the competition:
There is no competition.
Site:
http://Chumpchangeforcharity.com
Facebook:
http://www.facebook.com/ChumpChangeForCharity
Chump Change for Charity - Donate the Remaining Balance to Charity

,