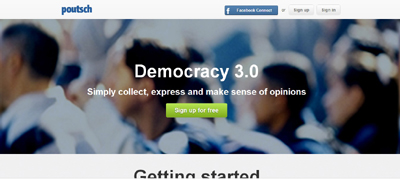 What it does:
We facilitate the way we collect, express and make sense of opinions online. Our platform is a mix between Twitter and SurveyMonkey…
We have a web app, a widget and an API ready. Mobile apps are in the pipe.
If you are a publisher, you might be interested in our widget. You can check out cool examples of embeds on http://poutsch.tumblr.com/
How it beats the competition:
It is social.
It is cross products (web, widget, api and soon mobile)
The opinion data is accessible to all.
Twitter:
http://twitter.com/poutsch
Facebook:
https://www.facebook.com/poutsch

Collect, Express and Make Sense of Opinions - Poutsch

,