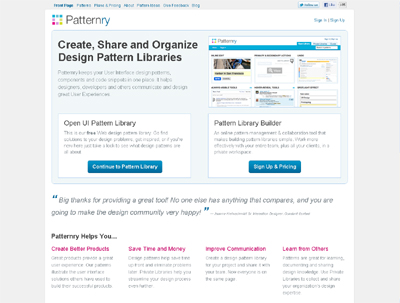 What it does:
Patternry is an online pattern management & collaboration tool that makes building pattern libraries simple. It keeps User Interface design patterns, components and code snippets in one place. As a results, it helps designers, developers and others communicate and design great User Experiences.
How it beats the competition:
Unlike Wikis and other systems that could be used for creating a design pattern libraries, Patternry is designed for building them. It is fast, simple, and easy to use.
Site:
http://patternry.com
Twitter:
http://twitter.com/#!/patternry
Facebook:
www.facebook.com/patternry

Create, Share and Organize Design Pattern Libraries - Patternry,