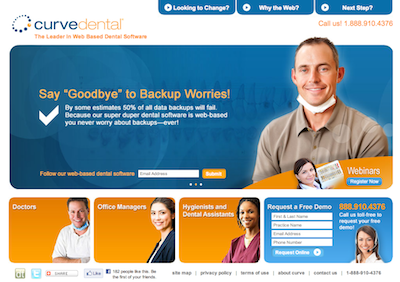 What it does:
Curve Dental is the leading web-based software company serving practice management and medical records software and services to the Dental industry. Curve Dental addresses most all the needs of modern dental offices including patient communication, billing, claims processing, scheduling, reporting, clinical & periodontal charting, medical records and notes, digital radiography and imaging, patient education, and related services. All an office needs is a username/password and they have access to the industry's leading browser-based dental technology.
How it beats the competition:
The dental industry is currently dominated by old, client/server based technologies that are sold and supported by traditional "feet on the street" sales models and use expensive and intrusive implementation and training processes. Curve Dental is taking a much more direct and Web-based approach to building market share and delivering our services. These methods were tested
and proven at AdvancedMD Software and are being adapted to the dental specialty. This differentiation and proven foundation will permit faster scale, greater margins and happier customers than the legacy products can provide.
Site:
http://www.CurveDental.com

Curve Dental – Web-based Dental Software

,