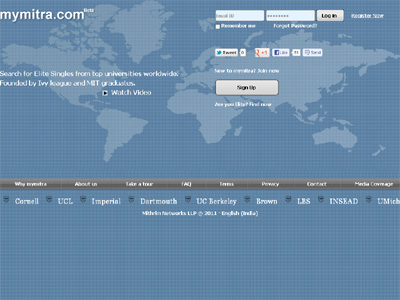 What it does:
mymitra.com is a matchmaking site founded by a team of MIT and Ivy league graduates. The principle USP is that, the best and the ambitious always rank higher and are displayed at the top of every search result. Using a pioneering algorithmic approach similar to Google's page rank methodology, individuals are ranked and displayed on every search. This ensures that the highly accomplished people get more prominence over others. So given all other factors being equal, a Harvard University grad looking for a date will rank higher and be displayed on top of the search, compared to a person from community college.
At mymitra.com, fake profiles are eliminated right during the sign-up process. People can register only by using their official college email or college documents. mymitra is open to any college matriculated person as long as they can furnish evidence of their education.
mymitra.com has a taken a fresh look at how people interact. Using social media concepts, a member can share thoughts publicly through a feature termed broadcasts. Users can also privately communicate via private messages or chat.
At mymitra.com every registrant gets sufficient free credits to experience the site. Also graduates from the top universities get to use all basic services at the site for free.mymitra.com is finally entirely advertisement free.
How it beats the competition:
Mymitra.com is the first dating/matchmaking website in the world to categorize and order profiles based on an individual's accomplishment. This is the only dating site in the world where highly accomplished individuals can get visibility and prominence. Every other site, randomly lists people or uses arbitrary matching criteria to match people together. We list the successful individuals and let users decide whom they want to date with.
People can register only by using their official college email or college documents. This helps to cut down on fake profiles and offers a high level of spam/scam free environment. Most other sites don't have this security measure.
mymitra.com has an unique interaction system based on social media concepts. The public messaging system called broadcast, private message and chat offer a rich environment for individuals to interact. Currently other dating sites use the old scheme of email sent between users, for any sort of communication.
Users have sufficient free credits provided on signup to try out the site. Many other sites force users to pay, even before they can start communicating with a potential date.
User information is finally highly confidential. Unlike many other sites, the data users enter at mymitra.com is held highly confidential and not accessible to any third parties. This is also the reason why we have kept the site totally advertisement free.
Site:
http://www.mymitra.com
Twitter:
https://twitter.com/#!/mymitradotcom
Facebook:
http://www.facebook.com/mymitradotcom

Date Elite Singles from Top Universities Around the World - MyMitra.com

,