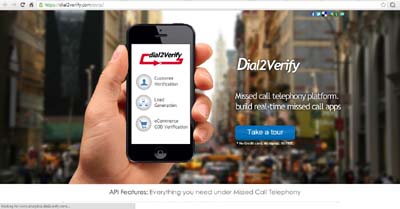 What it does:
Dial2Verify provides you with a Ground breaking technology to build authenticated customer base.
Are you providing a Home delivery option ??
Is it not better to authenticate the transaction before dispatching Cash On Delivery options.
Are you providing FREE registrations and still wish your site visitors to feel safer exploring your website?
Implement a Missed Call Based authentication system to build a loyal and verified customer base.
Dial2Verify API allows you to verify unlimited number of customers for FREE of cost. Visit link provided below to generate your own API Key,
htp://dial2verify.in/apidocs.html
How it beats the competition:
FREE to use API
Easy integration
Site:
http://dial2verify.in
Twitter:
Facebook:

Dial2Verify - Missed Call Based User Authorization System,

,