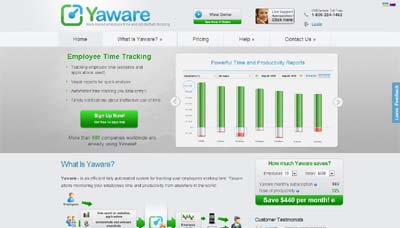 What it does:
Yaware is the most effective employee time tracking software you will ever use.  It's an automated, simple and convenient tool for tracking the working time of the whole team. Wherever your employees work, all the data about their working time and  productivity is  in your account. Yaware provides you with powerful business intelligence and helps your team get more productive!
Yaware Features
software and websites usage tracking
visual reports in the form of charts
fully automated time tracking  (NO manual data entry)
How it beats the competition:
1. Track What Programs and Websites Your Employees Are Using at Work
Yaware application sits in the background and records the information about programs, websites, applications being used. A user can open multiple tabs in a browser, but Yaware will record the time in one that is actively used at that moment.
2. Evaluate Employee's Productivity
Yaware automatically refers websites and applications used by an employee to one of the categories:
productive
unproductive
neutral
Employees can use a variety of resources (websites, software, applications) during the working day. Account or  group manager specifies productivity category according to employee's  tasks. Thus productive time means using tools related to work, unproductive time means using distracting  applications and websites at work and neutral is something in between.
3. Organize Users in Groups and Assign Group Managers
Yaware allows you to organize users in groups – by departments ( e.g. marketing department, accounts department and so on.), project teams etc.  This is convenient because employees in different department use different resourses for their work. For example, time spent in Photoshop is productive for a designer and unproductive for an accountant. Yaware allows to set different resourse productivity status for different groups. Besides a Group may have its monitoring schedule as well as a Manager who monitors the work of his group and productivity changes.
4. Get Timely Visual Reports
Yaware presents the information in graphs for quick analysis.  With Yaware it takes only several minutes a day to analyze working time and productivity of your team. Taking a look at the diagram you can determine the most productive employees, see who was late for work, compare employees' productivity within different time periods; determine most distracting websites and applications.
5. Use Hidden or Open Mode  According To Your Goals and Beliefs
If you don't want your employees to know about the monitoring you can install Yaware in Hidden mode. In that case Yaware icon isn't displayed in traybar and the software can be detected only in  Task manager window. Though we believe that using Yaware in the open is much more productive as it allows to involve employees in time-management process.
6. Offline Activity Tracking (track non-computer work)
Usually specialists have to solve tasks that do not require computer use. Yaware offers offline activity tracking feature that helps to get a general view of how time is used in your company. This tool helps to track time spent on non-computer work – meetings, phone calls as well as non-working activities. When user's computer goes idle for some period of time, a message pops up offering to specify the type of activity (You can add whatever options you need).
7. Get the Proofs, if Necessary (Take screenshots and Webcam Snapshots)
You can optionally make screenshots and webcam snapshots and store them in your Yaware account. These features allow to control the work of freelancers, branch-offices and employees working flexi-hours. On the other hand screenshots and webcam snapshots help to prevent possible malusage of time in your office.
Site:
http://yaware.com

Efficient Fully Automated System for Tracking your Employees Working Time - Yaware

,