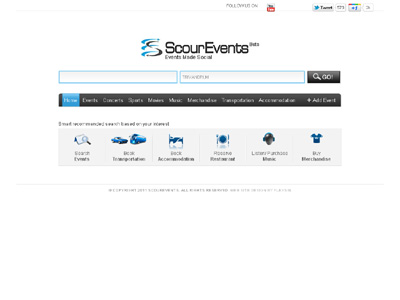 What it does:
Social Event recommendations based on your Facebook profile. Search for  events, concerts, sports , theaters, and  movies. Compare & purchase tickets. Listen to artists, bands and purchase their music or merchandise. Book restaurants, transportation & accommodation next to events.
How it beats the competition:
We offer the full circle of getting and enjoying your events with friends.
Site:
http://www.scourevents.com
Twitter:
http://twitter.com/scourevents
Facebook:
http://www.facebook.com/ScourEvents

Events Made Social - ScourEvents.com

,