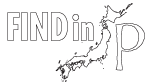 What it does:
Findinjp.com is a site for English speaking people living and traveling through Japan. It's a complete bible to everything Japan has to offer. An online directory with reviews and more. Findinjp includes listings of establishments submitted by members along with reviews by the findinjp members. By members for members! Our listings include restaurants, sightseeing destinations, hotels, bars, and more. Submit your favorite listing today and share with the world!
How it beats the competition:
There is no product like ours in Japan focusing on the English speaking customer. Our site covers all of Japan and all things Japan with built in user features to allow them to be food or hotel critiques as well as post their own listings. This site is in a class of its own.
Site:
Findinjp - Your site for everything Japan!

,