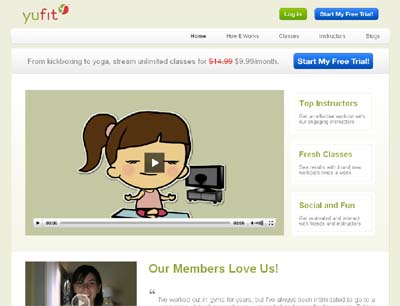 What it does:
Yufit is a membership based site that offers gym-quality fitness classes streamed on-demand in HD. Each class provides fresh new workouts twice a week, each taught by the same engaging instructor. Members can also interact with their instructors and other members through the social network.
How it beats the competition:
We all want to look and feel great, but the truth is that working out can be a complete chore. It is expensive, classes don't fit into our schedules, classes can be overcrowded, it's hard to keep our workouts fresh and exciting, it can be intimidating, and we lose motivation.
Yufit brings the gym conveniently to peoples' homes, and offers engagement and fresh workouts that fitness DVDs cannot provide. With Yufit, people waste less time, save money, stay motivated and have fun getting lean, toned, and fit.
Fitness at Home. Workout, Exercise, Lose Weight, and Get Fit. - Yufit

,