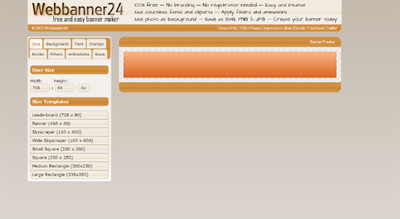 What it does:
A free banner maker to create banner graphics which can be saved as SVG, PNG and JPG. You can use several backgrounds, fonts, cliparts, fitlers and animations.
How it beats the competition:
The interface is easy to use. Everything can be edited by drag and drop. It doesn't require to click any refresh button to see the changes you did. Everything happens in real time.
You can also use animations without relying on flash technology.
Site:
http://www.webbanner24.com
Twitter:
https://twitter.com/webbanner24
Facebook:
http://www.facebook.com/Webbanner24

Free and Easy Banner Maker - WebBanner24

,