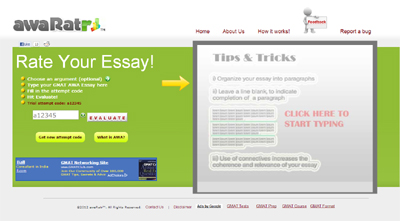 What it does:
awaRatr is a free resource, aiming to help GMAT takers understand, evaluate and improve on their attempts at writing essays, targeting excellence in the AWA (Analysis of an argument) section of the GMAT. awaRatr is designed specifically to comprehensively evaluate the text-piece submitted as a GMAT essay attempt. The software then grades the essay attempt on various parameters like coherence of idea and thought, structure and formation, vocabulary etc and provides a consolidated score on a scale of 6.
How it beats the competition:
awaRatr is one of its kind free online tool for GMAT takers focussing on excelling at their GMAT essay attempts. Other such tools come for a hefty fee and are not as simplistic in interpretation and use.
Site:
http://www.gmatawa.com
Facebook:
http://www.facebook.com/pages/Awaratr/170245859785634

Free Online Tool for GMAT AWA Essay Preparation - Gmatawa.com

,