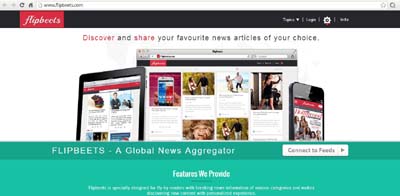 What it does:
Flipbeets.com – A Global News Aggregator, which provides top news websites latest news updates at one place.  Every day we are aggregating around 35 K – 40 K news articles from different categories in around 1300 sites across 11 countries.
Flipbeets.com are like treasure trove which encapsulates up-to-the minute information from wide variety of topics based on specific country users. Enliven your latest news information with Flipbeets.com – A Global News Aggregator. Users can create their own page by selecting the specified categories by archiving interested topics in a very user friendly format so that he/she can get footprint of his favorite categories in easy manner. Aggregator sites helps to consolidate many websites in to one page to show news information at specified intervals of time.
Manage & organize all aspects of life's great favorite moments in one place in precised format. Get real-time insight from billions of conversations which can be accessed through Desktops, Ipads, Surface, Tab's, Smart Phones in precised format. As far as durability and sturdiness is concerned users can get customized & complete global, business, science, political, sports, movies, health and geographical information. Here you can discover and share ideas automatically to reach across different interests all over the world driven by ingenuity as its fuel in keeping thriving state for times.
How it beats the competition:
Flipbeets was developed in HTML 5 which supports in all devices from lower end to higher end desktops, tabs, mobiles by providing latest news information across multiple countries with personalized page option for individual user access facilities.
Site:
http://www.flipbeets.com
Twitter:
http://twitter.com/flipbeetsweb
Facebook:
http://www.facebook.com/flipbeets

Global News Aggregator - Flipbeetsm

,