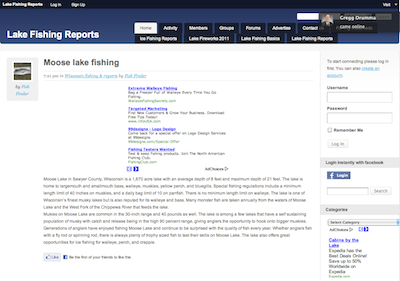 What it does:
Lake-fishing-reports Social network for fishermen.There are many social networks on the net but not many for anglers. Lake-fishing-reports takes a fishing blog and adds a major social network where fishermen can post photos,stories,tips,and pics to friends and the fishing community. Loaded with many unique features one of the best remains allowing fishermen to become
an author and submit their lake fishing articles or reports to be posted to the main blog. In doing so the author will receive free advertising for his or her website or business.
How it beats the competition:
Other fishing websites can not compete with lake-fishing-reports.com mainly because we offer free advertising for your lake fishing reports.
Site:
http://lake-fishing-reports.com

Lake-Fishing-Reports.com - The Social Network for Fishermen

,