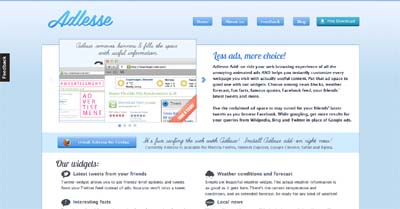 What it does:
If you've been wondering how to rid your browsing experience of annoying ads and flashy banners, guys on Adlesse team might have just the solution for you.
Adlesse is a browser add-on which automatically detects all the annoying banners and diligently removes them from your sight. But unlike most similar ad removers Adlesse does not prevent banners from loading altogether so you can reveal them with but a single click. This comes especially handy when you actually need to see that banner (for example, if it's some important element of the site). But the best feature of this add-on is definitely its wide selection of handy widgets.
Adlesse actually replaces the ad banners with various widgets of the same size which include local news boxes, weather forecast, fun facts, famous quotes, twitter or FB feeds and so on. It's up to you which widgets you would like to see most, you just have to set the priority for each widget in the customization window. It takes only a few moments to browse through the available widgets and drag-and-drop them into corresponding priority sections. From now on every page you visit will be completely ad free AND bear some pretty useful widgets which, if combined wisely, can really improve your browsing experience. For example, you can swap the unimpressive Google ads for widgets showing search results for your queries from other search engines and even Wikipedia or twitter.
If you're into social networking, Facebook and twitter widgets is another fine combination which will enable you to stay in touch with your friends seamlessly while browsing the your favorite sites. You won't even have to switch tabs to read your FB feed or your friends' latest tweets and you'll be able to instantly write posts of your own and share links.
Adlesse is compatible with most popular browsers, like Internet Explorer, Opera, Firefox, Safari and Chrome and is absolutely free.
How it beats the competition:
We are targeting a bit different audience that uses Adblock Plus.
Site:
www.adlesse.com
Facebook:
http://www.facebook.com/Adlesse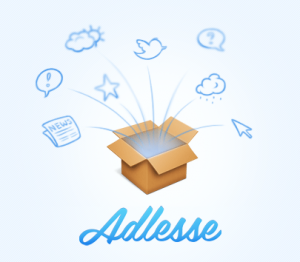 Less Ads, More Choice! - Adlesse

,