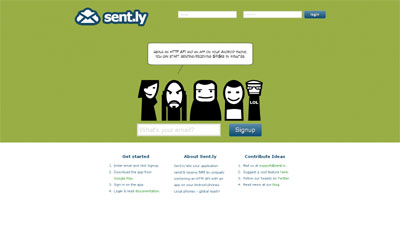 What it does:
Sent.ly is a service that allows your application to send/receive SMS globally using your Android phones. Using a simple HTTP API, your apps can start SMSing in minutes.
How it beats the competition:
Sent.ly provides SMS gateway functionality using your Android phones. Sent.ly does not require minimum usage quotas or a subscription fee. With local interactivity (local reply) at no extra cost, our customers can offer their audience an easy & convenient way to interact with their system. At a very affordable TCO, Sent.ly gives small scale e-commerce merchants a hitherto non-existent means to interact with their audience!
Site:
http://sent.ly/
Twitter:
https://twitter.com/sently

Local Phones, Global Reach - Sent.ly,