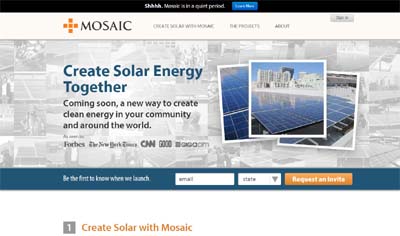 What it does:
Mosaic is an online marketplace that enables ordinary people to take part in community solar projects. Through their unique crowdfunding model, they  are democratizing the environmental and financial benefits of clean energy.
They recently received a $2 million grant  from the U.S. Department of Energy to bring their crowdfunding solar platform to scale and some have called them the "Kickstarter for Solar". They'll be launching an exciting new model in the fall–sign up at www.solarmosaic.com to receive exclusive early access to their marketplace.
Mosaic was founded in October of 2010 by a team of entrepreneurs, coders, finance experts, and changemakers. Their first five solar projects raised over $350,000 from more than 400 investors through a zero interest model. Together, their beta projects created 73kW of clean solar energy, produced over 2,700 job hours for local workers and will save cash-strapped community organizations more than $600,000 on their utility bills.
How it beats the competition:
There is not much competition in this sector yet and Solar Mosaic hopes to lead the country in crowdfunding of clean energy finance. There are similar crowdfunding models in England and around the world, but many are non-profits or provide loans for micro-finance. Solar Mosaic is different because everyone benefits from a solar investment (the site owner, the developer, the community, the investor, and ultimately the world).
Site:
http://solarmosaic.com/
Twitter:
http://twitter.com/solarmosaic
Facebook:
http://www.facebook.com/solarmosaic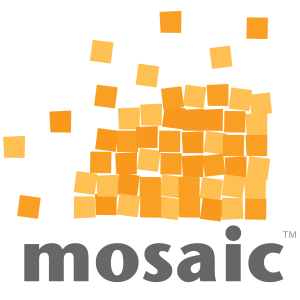 Marketplace for Community Solar Projects - Solar Mosaic

,