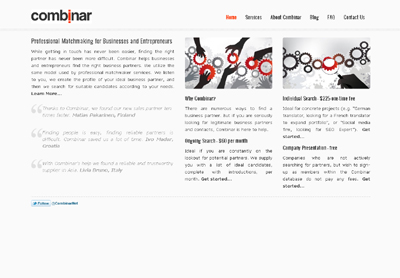 What it does:
Combinar adapts the professional matchmaker business model of the past with the social networking of the future. Instead of offering another database where people can search and find business partners and contacts, Combinar offers a service, which, should "reduce frustrations and fraud."
Upon sign-up, each new member chooses criteria for their ideal partner. The Combinar staff then go through the site with a fine-toothed comb in search for someone who matches the initial criteria, just like a traditional matchmaker would do. Instead of allowing users to browse databases, Combinar presents potential partners.
How it beats the competition:
Combinar is a totally new model – it combines traditional "personal matchmaking" with the requirements of the business world. It allows entrepreneurs and businesses to quickly find partner while maintaining a high quality of those connections.
Site:
http://www.combinar.net
Twitter:
http://twitter.com/combinarnet

Matchmaking for Businesses, Entrepreneurs and Startups - Combinar

,