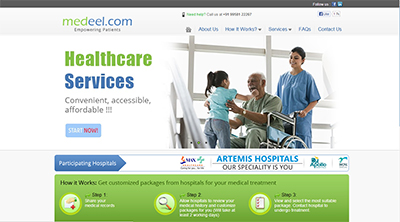 What it does:
medeel.com is an online portal for the patients seeking surgical/and other hospitalization services from the service provider. Medeel.com helps such patients connect with best hospitals, and also provides the customized packages from these hospitals, for their treatment. All this is done with a convenience of sitting right in their home. Once its decided where patient wishes to get treated, patient can straightaway visit that 1 hospital for their treatment
How it beats the competition:
I havent found any other website where the patients can get a customized package from many hospitals at one go.
Site:
medeel.com

Medele.com - Empowering Patients

,