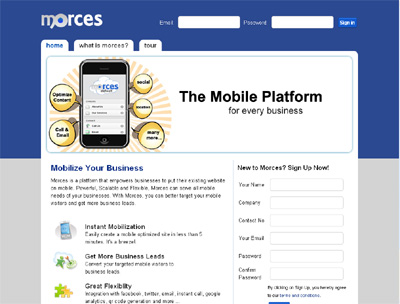 What it does:
Morces is a platform that empowers businesses to put their existing website on mobile. Powerful, Scalable and Flexible, Morces can serve all mobile needs of your businesses. With Morces, you can better target your mobile visitors and get more business leads.
How it beats the competition:
Having a mobile site does not necessarily mean that a business can generate more leads. Morces takes a further approach by allowing businesses to engage, interact and manage their mobile users.
Morces gets you more than just a mobile site. In a nutshell, it is a mobile web platform which leverages the best practices of successful mobile campaigns in the industry.
Site:
http://www.morces.com
Twitter:
http://www.twitter.com/morcesinc
Facebook:
http://www.facebook.com/morces.inc

Mobile Web Platform - Morces

,