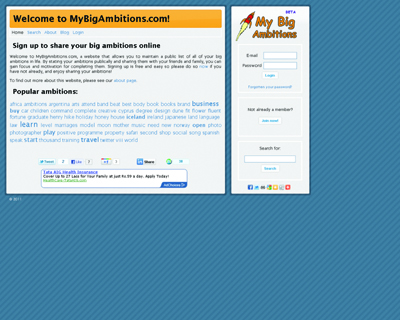 What it does:
Launched in 2011, MyBigAmbitions.com is designed to enable people to maintain a list of all of their big ambitions in life, for example:
– Want to climb Mount Everest?
– Always wanted to learn to a new language?
– Want to become your own boss?
Sign up to share these ambitions with other like-minded people online, while gaining from their experience in the areas where you would like to achieve more.
How it beats the competition:
It is all driven by tags, that allow users to find other user with similar interests.  We are working hard to ensure that the interface remains uncluttered and easy to use, while we add new features (currently in public beta).
Site:
http://www.mybigambitions.com/
Twitter:
http://twitter.com/#!/mybigambitions
Facebook:
http://www.facebook.com/pages/MyBigAmbitionscom/122537671164263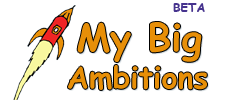 MyBigAmbitions.com - Share Your Big Ambitions

,