What it does: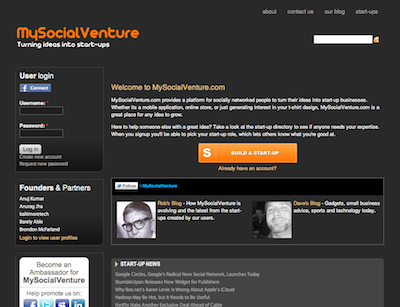 MySocialVenture.com provides a platform for socially networked people to turn their ideas into start-up businesses. Whether its a mobile application, online store, or just generating interest in your t-shirt design, MySocialVenture.com is a great place for any idea to grow.
How it beats the competition:
Unlike competitors who charge to place people's ideas with partners and investors, we provide an open platform with an open marketing model.
Site:
http://www.mysocialventure.com
Twitter:
http://twitter.com/#!/MySocialVenture

MySocialVenture.com - Turning Ideas Into Startups

,