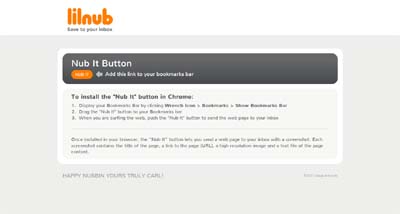 What it does:
Lilnub lets you send a web page to your inbox with a screenshot. Each screenshot contains the title of the page, a link to the page (URL), a high resolution image and a text file of the page content.
Happy Nubbin!
How it beats the competition:
You own your content.
Site:
http://lilnub.com
Twitter:
http://twitter.com/nicenub
Nice Nub! - Lilnub.com,