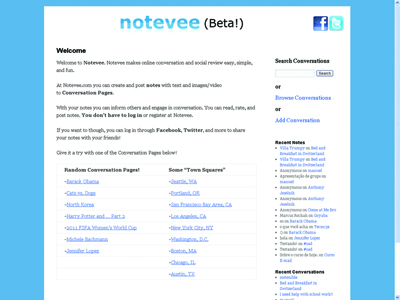 What it does:
Notevee lets users share text and media with each other on "conversation pages." Users can post anonymously or through a social service like Facebook or Twitter. This helps build a unique, browsable website of social exchange.
How it beats the competition:
Notevee is really easy to use. It gets to the point. Notevee enables its users to post anonymously and instantly without having to bother with registering or logging in. If the user wants to log in via a social network, however, they can just by clicking a button. Searching and navigating through tags of "conversation pages" is also very simple.
Twitter:
http://twitter.com/#!/noteveedotcom
Facebook:
http://www.facebook.com/apps/application.php?id=204672546246046

Notevee - Online Conversation and Social Review Made Easy,