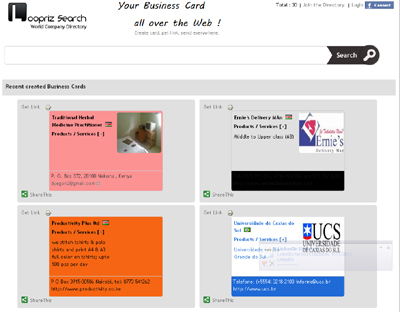 What it does:
Loopriz is a worldwide company directory where businesses can create their free Business Card online and share their link with anyone.
Not only does it let you share and print your Business Card but puts your business in our directory for everyone to find.
How it beats the competition:
It beats competition by being totally free and offering a very easy navigation and registration system with a clean design.
Site:
http://www.loopriz.com
Twitter:
http://twitter.com/#!/loopriz
Facebook:
http://www.facebook.com/pages/Loopriz/109925253130

Online Business Cards - Loopriz.com

,