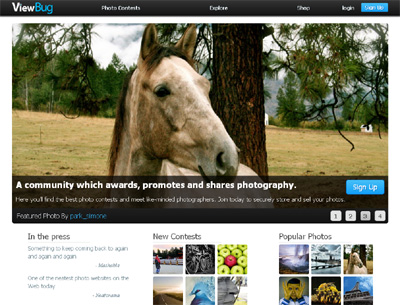 What it does:
Not only is ViewBug an active social community for photographers, it's a place where photography careers can be founded and nurtured. Our regular photo contests give users an opportunity to win photo gear, cash, and publication deals as prizes. We also offer online photography courses for those who want to upgrade their skill set in this exciting and fun trade.
How it beats the competition:
There are many photo communities on the internet, but none of them boast the contest-driven experience of ViewBug that rewards talented users with cash and prizes.
Site:
http://www.viewbug.com
Twitter:
http://twitter.com/viewbug
Facebook:
http://twitter.com/viewbug

Photo Contests and Galleries - ViewBug

,