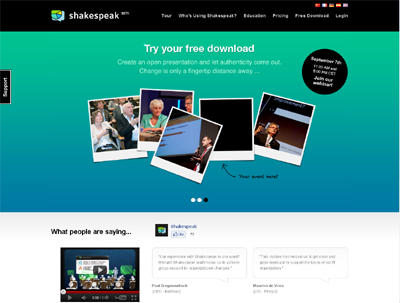 What it does:
At Shakespeak we developed a tool which enables the presenter to start a dialogue with his/her audiences whereby people make use of the mobile phone. The tool enables the audience to comment real-time, ask questions and vote via text messaging/Twitter and mobile internet.
To give you an impression we developed a 1-minute introduction movie that shows you the effect of using Shakespeak.
Shakespeak is a Ducth start-up based in Amsterdam.
How it beats the competition:
Event organizations do not have to rent voting devices anymore since the audience votes with their mobile phone.
Site:
https://shakespeak.com/en/home/
Twitter:
http://twitter.com/#!/Shakespeak
Facebook:
http://www.facebook.com/shakespeak?ref=ts

Presenters Have a Real-time Dialogue With Their Audience via Mobile Devices - Shakespeak

,