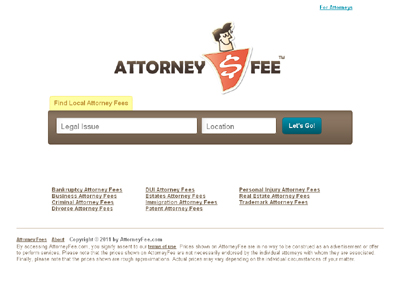 What it does:
AttorneyFee is the world's first price comparison engine for legal services.  You say what you need done and where you're located, and we'll instantly show you real prices from hundreds of attorneys in your community.  You can filter by price, experience, or distance to narrow down on the exact subsection of lawyers that fit your needs.  When you find a lawyer you like, you can check his/her calendar to find out when they're available and book an appointment online, all without making a single phone call!
How it beats the competition:
AttorneyFee is the only website that provides pricing information for local attorneys.  Other sites provide ratings, reviews, and biographical information, but not pricing.  We believe that price is a critical piece in the decision-making process.
Site:
www.AttorneyFee.com
Facebook:
http://www.facebook.com/pages/AttorneyFee/225983537430045
Price Comparison For Legal Services - AttorneyFee.com

,