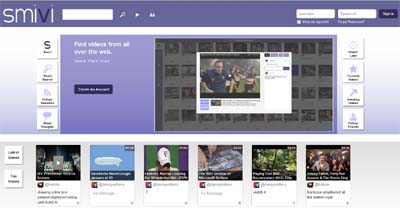 What it does:
Smivi is a video search engine—one convenient place where you can find videos from all over the web.
Smivi brings you results from virtually any website that hosts video content. Some of them might be familiar (YouTube), and some of them might not (that's right, there's more to online video than YouTube).
How it beats the competition:
One stop place for your entire video experience. From finding your videos, to watching them, to sharing them. With an account, you'll be able to get access to many great features. Use invite code "earlyaccess1000" to create an account today.
Site:
http://www.smivi.com
Twitter:
http://twitter.com/smivi
Facebook:
http://www.facebook.com/smivi

Search. Watch. Share. - Video Search Engine - Smivi.com

,