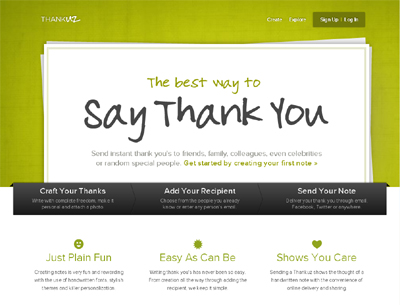 What it does:
Thankuz lets you create and send instant thank you notes. Anyone can use it to thank people, places and things for thoughtful gifts, kind acts and heartfelt expressions. It's fun, easy and shows the thought of a handwritten note.
How it beats the competition:
Thankuz is the fastest way to send thank you's. It takes less than 5 minutes to create and send your note and best of all, it's free to use. Users can even connect to Facebook, and send notes socially via Facebook, Twitter, or Short URL (email is also available, with SMS messaging and physical note delivery coming soon).
Site:
http://thankuz.com
Twitter:
http://twitter.com/thankuz
Facebook:
http://www.facebook.com/thankuz
Send Thank You Notes Instantly - Thankuz

,