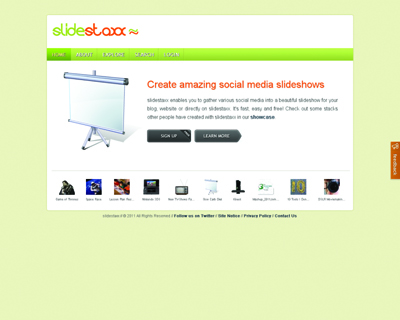 What it does:
Slidestaxx enables you to gather social media from various sources and produce a beautiful slideshow you can post on your blog, website or directly on slidestaxx. It's fast, easy and free! Add pictures, videos, websites and more into your slideshow and then embed the slidestaxx into your own website or blog.
How it beats the competition:
No matter if you use videos, pictures, bookmarks or product information. slidestaxx brings it all seamlessly together. slidestaxx allows for a wide variety of media sources – from YouTube to Flickr.
Site:
http://www.slidestaxx.com
Twitter:
http://twitter.com/#!/slidestaxx

Slidestaxx - Social Media Slideshows

,