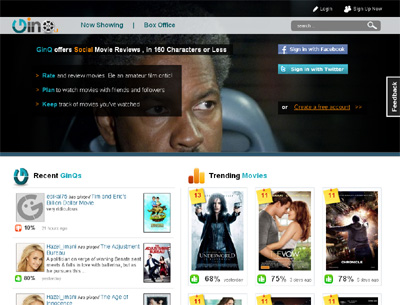 What it does:
It makes movies social by reinventing movie reviews to 160 characters and gather ratings from all big sites at one place. Ginq.com tried to re-invent movie reviews experience.
Key features:
– review movies in 160 characters
– plan movies with your friends
– see rating from multiple sites at one place
– Manage movies by making your watched and queue list.
– Follow people who like similar movies.
How it beats the competition:
Its straightforward site, all features are easily accessible.
Site:
http://ginq.com
Twitter:
http://twitter.com/ginqs
Facebook:
http://facebook.com/ginqs

Social Movies - Ginq.com

,