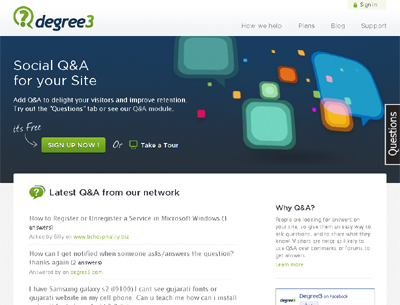 What it does:
Degree3's Social Q&A widget allows website owners to install a unique and unobtrusive feature which allows visitors to ask questions on any page the plugin is enabled.
How it beats the competition:
Unlike other services, our free widget allows for all questions to be assorted by the page they were asked upon for easy reference and for the convenience of future visitors. All questions have the option of being indexed on the Degree3.com portal for SEO benefits.
Twitter:
http://twitter.com/dgree3
Facebook:
http://facebook.com/degree3.qna

Social Q&A - Degree3.com

,