What it does:
The world is full of forward thinking people with world changing ideas, however due to limits caused by funding and management they rarely realize.
You always read that no matter where you come from, what education you have or who you are in society, you can reach your dreams… but with little to no support to achieve them.
Hence WiOwn.com.
Social Reality that will see online ideas create offline realities, thus enabling everyday dreamers, entrepreneurs and innovators to reach greatness.
It is a global network that aims towards growth and job creation.
as Entrepreneur, the Founder of WiOwn.com aims to offer everyone with a creative side the opportunity to get together, co create and drive innovation through a community of like minded individuals.
This will see people submitting ideas and the community voting on them.The best ideas will then be funded by the Network, WiOwn.com and will offer the submitter/Founder a reasonable share and ownership. There are lots more to this than explained here, however we cannot give away everything…
The funded venture or idea will be incubated and assisted by the community and Wiown.com, that will offer advice, guidelines and more.
The Start Up/Idea will then offer the members a unique opportunity to get involved or work for such a project.
Projects especially focused on will have these features:
Low – Medium input, Simplicity,Implementation,Popularity and Profitability.
The overall goal will be to contribute combine and create projects that will show a Profit. These profits will then be re-distributed to the members by means of a special formula.
Thus users get to earn monthly incentives, receive promotions, rewards and profit off the ideas they voted on…
a Profit sharing model based in "New Member" affiliation that will see members earning good remuneration for bringing new members to the network.
a Engagement scale will show whom is most active and leading engagement across the network, this user will receive a monthly prize.
Cash payouts will be awarded to these contributors ans paid into a PayPal account.
All profits made by the network will go back into the Network, Community and Ideas.
How it beats the competition:
There are little to no competition and its a unique new site that delivers everyone something globally.
Site:
http://wiown.com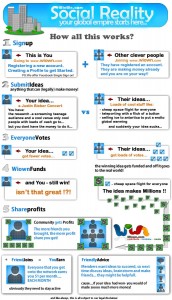 Social Reality is here- Start your empire today - Wiown.com

,