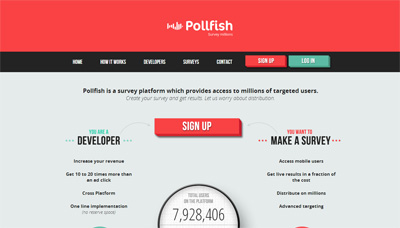 What it does:
Pollfish is a survey platform which provides access to millions of targeted users, for market research companies, telecommunication providers, brands or independent researchers.
A new revenue stream for mobile application developers, way more efficient and profitable than the classic mobile advertising model.
How it beats the competition:
Provides access to an audience that has not been exploited before.
Site:
http://www.pollfish.com
Twitter:
https://twitter.com/pollfishCom
Facebook:
http://www.facebook.com/pages/Pollfish/556947327651704

Survey Millions - Pollfish

,