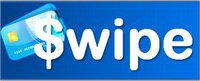 What it does:
Swipe is an easy way to tell your friends what you want to buy and find what they are buying. Swipe helps you shop street smart by giving you access to prices and product reviews recommended by your friends and other people whom you trust. You can share the inside scoop on countless everyday purchases such as food, clothes, gadgets, furniture, books, tickets, gyms, cars, holiday packages, games  etc ,etc. Swipe starts social conversations around purchases and helps you discover prices, deals, opinions, locations, stores, products and shoppers  – all this in a fun and competitive game environment.
Real time local shopping information helps you get an insight into others shopping habits and saves you time and money, by instantly discovering what others are buying around you. Currently real time local shopping information is not available and is walled in and contained between the shopper and a few close friends.
Swipe disrupts this structure by providing  free, completely transparent, up to date shopping information in your area from people you trust. Swipe provides a fun medium through which you can easily share and access valuable real time local shopping information regarding stores, products, prices, deals and reviews.
How it beats the competition:
Competitors: Blippy (http://blippy.com/) and Swipely(http://beta.swipely.com/)
We have spoken to hundreds of users and  100% of them say:
1. They would never give their credit card information (like in Blippy and Swipely) just to share with others what they bought – too big a hurdle for not much in return. 100% of them said they will be willing to type in the same information – Swipe lets users type in their purchases.
2. They have no use of feedback and conversations after they have bought a product (like in Blippy and Swipely). They would rather get the feedback and conversations before buying something – Swipe lets users tell others "what they want to buy".
3. Their shopping related pain points are for offline shopping not online shopping  – Swipe focuses on offline local shopping. 80% of the purchases on Blippy are stuff people buy online – mostly app store purchases.
Site:
http://www.didyouswipe.com
Swipe - Shop street smart

,