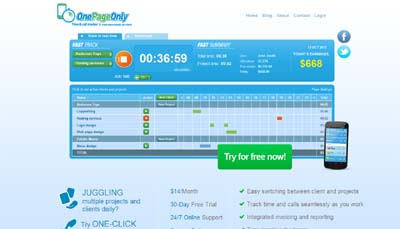 What it does:
OnePageOnly helps to track time, create invoices and juggle between clients and projects with one click. It is the perfect time tracker for any multi-tasking professional.
How it beats the competition:
The Android application, created in addition to our Web application lets our users measure their work any time they need, anywhere they are. It also saves time and money by automatically adding all business calls to invoices.
Site:
http://OnePageOnly.net/
Twitter:
https://twitter.com/OnePageOnly
Facebook:
https://www.facebook.com/OnePageOnly

Time & Call Tracker - OnePageOnly

,