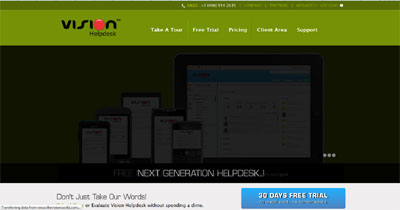 What it does:
Vision Helpdesk product is 5 year's young and currently its 3rd version that we have released. During those 5 years Vision Helpdesk has greatly evolved — The new version V3 we call it as Next Generation Helpdesk.
We offer Vision Helpdesk Software as SaaS i,e Hosted on our Cloud Server and Download i,e install on Clients Server options.
Vision Helpdesk starts at just $24 per month SaaS Based (Installed on our Cloud Server) Version and $599 one time for Download (Install on Your Server) Version. Both SaaS and Download Licenses offers UNLIMITED STAFF, USERS and TICKETS.
How it beats the competition:
Vision Helpdesk is the only web-based helpdesk software that allows you to manage support for multiple companies at one place. With single front-end and each company having its own client portal makes it true satellite helpdesk.
The ALL IN ONE customer support helpdesk allows you to manage various channels like E-MAIL, WEB-FORMS, TWITTER, CALLS everything under single roof.
Site:
http://www.thevisionworld.com
Twitter:
http://www.twitter.com/visionhelpdesk
Facebook:
http://facebook.com/VisionHelpdeskV3

Web-based Helpdesk Software - Vision Helpdesk

,