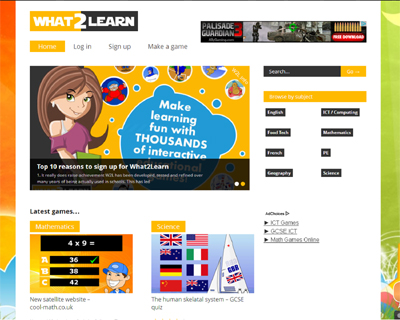 What it does:
W2L provides access to thousands of interactive learning games covering most subject areas, a learning game generator which makes it easy to create 30 different kinds of interactive learning games, in-built rewards for students and automated monitoring of student progress for teachers.
There are free and premium accounts available. An important fact about the premium accounts is that half of the proceeds from sales goes to the new 'Building Learning, Building Schools' Programme which funds the building of schools in developing countries. Due to the scale of learning content (around 80,000 games) the tool has taken a number of years to create, but the commercialisation is new and the 'Building Learning, Building Schools' Programme has just been launched this week.
How it beats the competition:
The tool effectively 'sugar-coats' learning by providing educational content in the form of fun interactive games. At the same time it is a powerful monitoring tool for teachers, enabling them to make substantial time savings, particularly in terms of marking.
There are few tools that are so feature-rich and none that (to our knowledge) that redirect earnings to support education in developing countries.
Site:
http://www.what2learn.com
Facebook:
https://www.facebook.com/what2learn