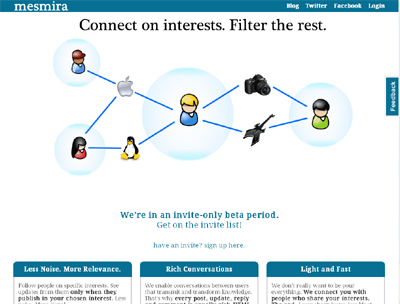 What it does:
Mesmira is a new way connecting with people who share your interests.  On Mesmira, you can choose to connect with people on and through a shared interest.
How it beats the competition:
On most social networks, you connect with people and are flooded with updates on topics you don't care about.  on Mesmira, You will only see updates from people on topics you've chosen to follow them on. Everything else is filtered out. Less noise.
Twitter:
http://www.twitter.com/#!/mesmirateam
Facebook:
http://www.facebook.com/pages/Mesmira/267397716626957

Your Interest Network - Mesmira.com

,