What it does:
YumTable takes the "last minute bookings" concept to the restaurant scene.
YumTable helps hungry people find and book empty restaurant tables (with incentives and deals) near them or where they are going to, in real-time through last minute table bookings done via YumTable's iPhone app and web.
How it beats the competition:
YT has a narrow focus: Only displays empty tables near and in time-order you all of which can be booked at the last minute. Restaurant have full control to put up number of tables, the deals or incentives associated with each table, for specific times or days. So they can post specials for excess food stock, last minute cancellations or when they know they have free tables, eg Monday/Tuesday nights.
No More Coupons!
YumTable transforms how restaurants and hungry people interact. We get rid of embarrassing coupons – you should be able to book a table, enjoy your meal and when the bill comes out, any discount or deal is already applied without asking for it!
YT has Great Usability and Design: Site is street-smart and engaging, simple to use and simple to book either from iPhone or website.
Site:
http://www.yumtable.com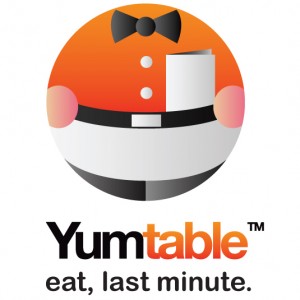 YumTable - Eat, Last Minute. Last Minute Bookings for Restaurant

,