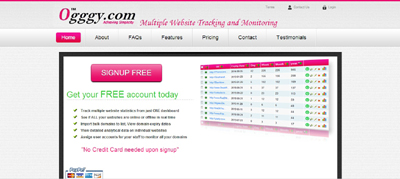 What it does:
Ogggy.com is a simple multiple website statistics dashboard all in one place. No need for multiple accounts. We are constantly making improvements which will be an added bonus for existing users already signed up and of course for new customers. Accessing your analytics for all your websites all from one place allows you to keep your finger on the pulse and act faster to changing trends.
How it beats the competition:
It beats the competition through it's simplified statistics, all the data you need on one dashboard for all your internet businesses, compare your websites traffic with your other businesses, now you can track 1,000 websites and know instantly if they are online or offline, when the domains are going to expire and you can sort from highest to lowest traffic websites all from one page in seconds.
Site:
http://ogggy.com/
Twitter:
http://twitter.com/myogggy
Facebook:
http://www.facebook.com/pages/Ogggycom/238998692901180

Achieving Simplicity - Ogggy.com

,