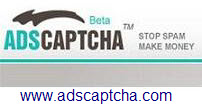 What it does:
AdsCaptcha is an innovative captcha for spam prevention that can be used also for making money. This is due to the fact that users type advertisers' messages instead of gibberish captcha – whenever user fill up the captcha text (=advertiser message) the website owner gets paid for it!
How it beats the competition:
AdsCaptcha offers a completely free captcha that can be download and used by anyone (on their website).
The ads captcha plugin is suitable for WordPress, Drupal and Joomla CMS as well as other website platforms (ASP, PHP, etc).
The installation process is not only free, but is also easy and takes no longer than 1 minute.
Site:
http://www.adscaptcha.com/
AdsCaptcha - Stop Spam Make Money

,