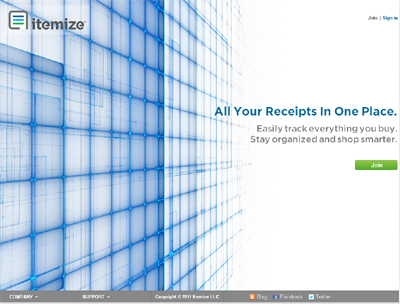 What it does:
All Your Receipts In One Place.
Easily track everything you buy.
Stay organized and shop smarter.
Itemize uses patented technology to gather and organize receipts using a cloud-based platform. From this information, Itemize offers the ability for the consumer to efficiently track and manage all of their purchases. With membership of Itemize comes a suite of practical applications to enhance control of consumer finances. These applications include product registration services, tagging and reporting for personal expense management, and recommendations for future purchases based on each user's shopping history.
How it beats the competition:
Itemize has patented machine learning technology. Itemize.com is optimized to provide everything that its competition does as well as bonus features which have yet to be developed by competition.
Site:
www.itemize.com
Twitter:
www.twitter.com/itemizellc
Facebook:
http://www.facebook.com/itemizellc

All Your Receipts In One Place - Itemize

,